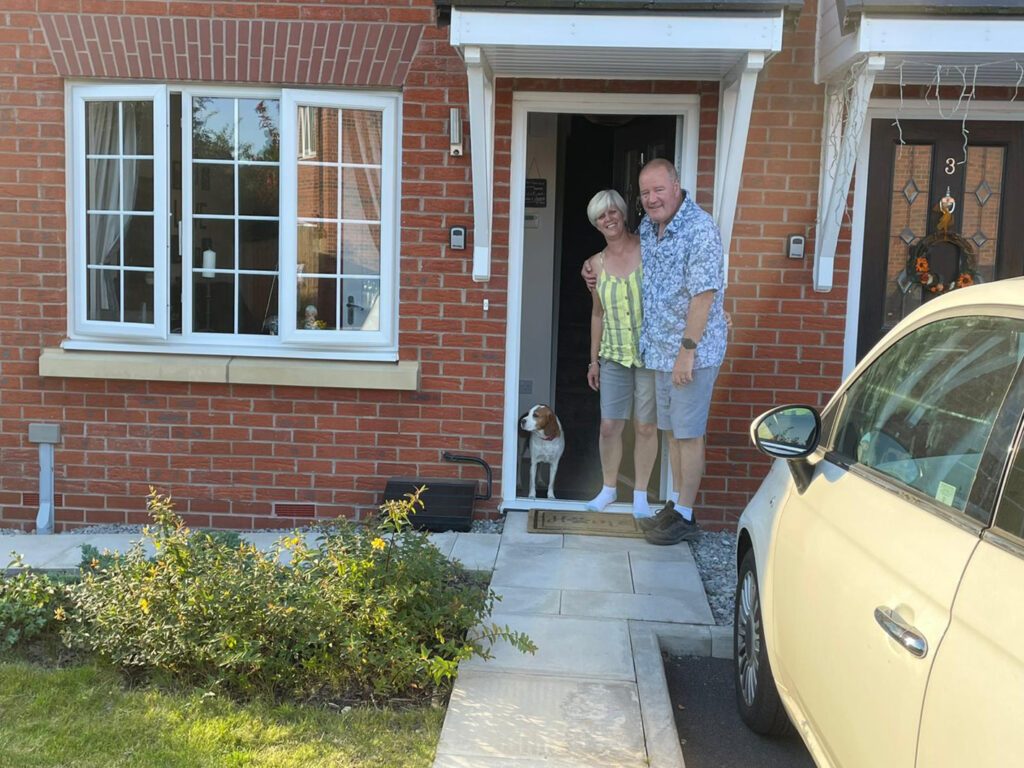 Paul Montgomery's Snugg Homes Story…
---
"We are so pleased that we found this property with Snugg Homes' help and guidance – and Karen's support made the whole process far less stressful." – Paul Montgomery, 59, Lowton.
---
Paul and his wife Angela have recently purchased a 25% share in a 2 bedroom home in Lowton.
This is Paul's Snugg Homes story…
"My name is Paul Montgomery – my wife Angela and I, age 69 and 59 respectively, recently moved from a 1 bedroom property in Rochdale, to a 2 bedroom home on a development in Lowton.
Although we had not long moved to Rochdale (to be near our grandchildren), we soon realised that the property we had bought was not really suitable. We were struggling with the space, especially when our granddaughters came to visit, and we had no real garden as such.
We initially searched for a bigger property in Rochdale, but we soon realised we couldn't afford anything. We have family in Liverpool and so we decided to expand our search area nearer there – and came across our property in Lowton. This location is perfect because we are equally placed between our grand daughters and our family.
Prior to moving to Rochdale we had been Shared Owners in a property in Liverpool, so we were already very familiar with the Shared Ownership scheme. We knew that it meant we would be able to afford a bigger property for our budget, giving us the space we so desperately needed, in the ideal location. So, fully aware of the process we were just really excited at the prospect of moving into our new home.
Since moving in our life has changed for the better! We now have more room, a lovely garden, friendly neighbours, and most importantly space for our grandchildren to stay.
The development is attractive, very family orientated and the neighbourhood is safe! We enjoy walking around the development with our dog; we can see how proud everyone is of their homes and our neighbours are always happy to chat, there is a real sense of community.
We are so pleased that we found this property with Snugg Homes' help and guidance – and Karen's support made the whole process far less stressful."
Thank you
Paul and Angela