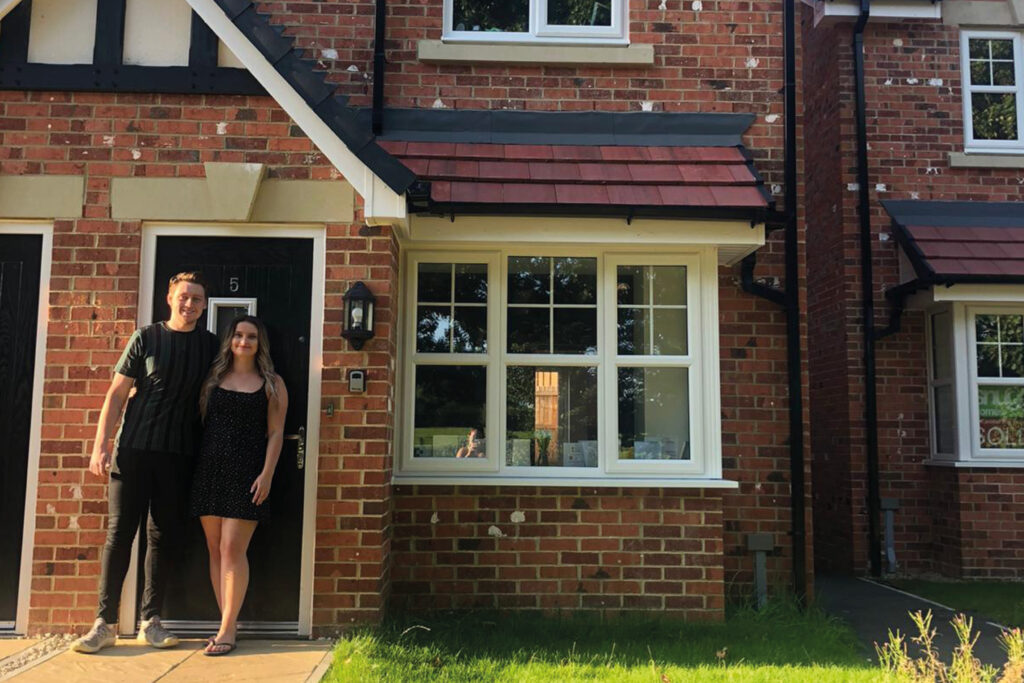 Niamh and Robert's Snugg Homes Story…
---
"Snugg Homes have been fantastic. I felt like they really cared and helped us if we needed them. I can't fault anything they have done for us" – Niamh Smith, 22, Euxton
---
Niamh and Robert are two young, first time buyers who chose to buy their home through Shared Ownership.
This is their Snugg Homes story
"Hi, I'm Niamh and I live with my partner Rob. We've recently moved into a Shared Ownership property and we are absolutely loving it. I met Rob 4 years ago and we've been together ever since.
Rob proposed in Italy to me last year at the Trevi Fountain, so this year it felt right we would start looking for our own house after saving up for a deposit; the perfect opportunity came along when we saw the listing for the Shared Ownership development on Pear Tree Grange in Euxton.
Before buying our first house together I was living with my mum in Charnock Richard. Throughout mine and Rob's relationship we'd been saving in a joint account knowing we would buy our own house at some point… I found out I was pregnant earlier this year and so we needed more space for when the little one arrived.
At the beginning of the year we started looking for a property to buy; we both wanted to buy a house rather than rent – we wanted the house to feel like our own, have pets without having to ask for anyone's permission, decorate to our own tastes.
One of my friends told us about Shared Ownership properties, so we did our research and started looking online. We were drawn to Shared Ownership because at the time we had saved up a good deposit to purchase one.
I fell across Snugg Homes and applied straight away – I didn't waste any time. I really liked the idea of a Shared Ownership, I also liked that no one had previously lived in the property and it was newly built with no renovations needed.
After the application went through we were both able to pick the plot we wanted. It's also not too far from my mums house – so I always nip back to see her when I can. It seemed like the perfect opportunity for both of us!
We fell in love with the house after we viewed the property: the kitchen, the garden, the layout…we loved it. We also started planning how we wanted the nursery to look for the little one.
My favourite thing about the property is the view! We've got such a lovely view as our house overlooks a field and it's usually full of cows so I love it.
The house it brilliant everything we wanted and more. It's modern and stylish. As well as this, Euxton is such a lovely place to live – we love the area. Our house is also surrounded by country lanes and nice walks which makes it feel private.
Since moving in we've met the neighbours and they're lovely too which is a bonus! I work on A&E in Blackburn so it's also close to the motorway which is great for work.
It's been tough for both of us as I had a recently had a miscarriage but we are hoping one day we will be able to start a family of our own now we have the perfect home. It's been hard but the house has been our little escape and it has changed our lives for the better.
We have been in the house just over a month now and we are both loving it! We bought two little new kittens Elsa and Anna who have also settled in so well. We couldn't be happier with our new little home it's gave us both something to look forward to.
Throughout the application Snugg Homes have been brilliant, we have both been extremely happy with the service. Karen, our Property Sales Coordinator has been excellent. She has always been a phone call away if we've had any queries.
Snugg Homes have also dealt with Covid-19 guidelines very professionally and we felt safe when viewing the property. We feel like the process went through quickly even though we bought whilst there was a pandemic. Snugg Homes have been fantastic. I felt like they really cared and helped us if we needed them. I can't fault anything they have done for us.
Thanks so much Snugg Homes for everything."
To Niamh, Robert, Elsa and Anna
Thank you so much for sharing your story; your heartfelt account was both inspiring and deeply moving.
We at Snugg Homes are truly delighted that you love your new home and we are proud that we were able to play a small part in helping you achieve it. The whole team wish you lots of laughter and happiness for your future!
The Snugg Homes Team